Urushiyama Shrine and Myojin-iwa
Urushiyama shrine is worshiped by many people who are involved with Urushi (lacquer).
Myojin-iwa (rock) standing behind the shrine is the most northern sacred place in Niigata.
add: Budo Murakami-shi >> map

Taki Shrine
It is at the mouth of Miomote river. There is a waterfall on the way and you can feel a sacred atmosphere.
add: 787 Takiyama Iwagasaki Murakami-shi >> map

Shiogama Shrine
This shrine is located in the middle of Shioya village and many people come and worship this historical village.
In Shioya, turtles are treated as a servant of guardian god so there is a tradition to offer toys and snacks that are shaped like a turtle to the shrine.
add: 1198 Shioya Murakami-shi >> map

Senami-haguro Shrine
"Murakami Taisai",held on July 6th and on 7th is a festival of Senami-haguro Shrine. The main shrine is located on the top of the stairs and a large mask of Tengu (a Japanese long-nosed goblin) is enshrined inside.
add: 6-16 Haguromachi Murakami-shi >> map

Nature
Sunset
Murakami city has a long coastline so you can see a beautiful sunset setting in the Sea of Japan. There is a legend that people who saw the green flash at the moment of sunset will be happy.


Asahi Mountain Range
Asahi Mountain Range is the source of the clear streams flowing through Murakami. It is a part of Bandai-Asahi National Park and virgin forests are spread out.

Arakawa river
According to the river survey in 2003, it was selected as one of the cleanest Class A rivers. Many fishermen come to fish salmon in the high season from in and out of Murakami city.

Miomote river
It is well-known as a river where salmon come back after spending several years in the sea. When they come back in late Autumn, you can see the traditional fishing method,"Iguriami-ryo",using three river boats to catch salmon.

Other sacred places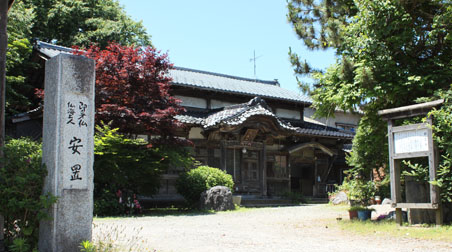 Kannonji Temple
This temple enshrines Bukkai Shonin, the last priest who allegedly caused his own death in a way that resulted in his being mummified.
add: 15-28 Sakanamachi Murakami-shi >> map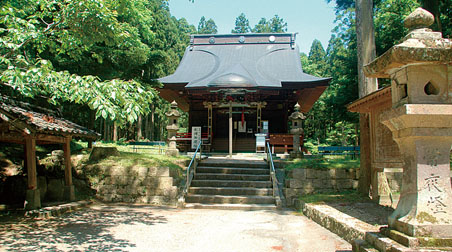 Daiman-kokuzoson
This temple enshrines Daiman-kokuzoson Buddha that is said to give people wisdom and good luck. Festivals are held on April 13th and on October 23rd every year in Sarusawa where the temple is located.
add: Sarusawa Murakami-shi >> map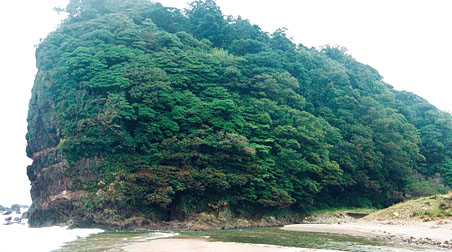 Hakogata-hachimangu-shaso
Hakogata-hachimangu-shrine is located on the top of Mt.Hakogata, a rocky mountain, which was originally formed by a volcanic eruption, and is surrounded by a virgin forest. There supposed to be a location that is thought to be flowing with mystical energy.
add: Gatsugi Murakami-shi >> map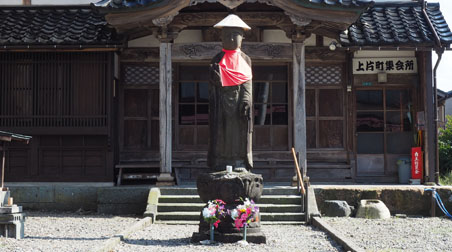 Kuhonbutsu
Kuhonbutsu are stone Buddhas. There are nine of them and they were set at the important sites throughout the town in 1758 for the 150th anniversary of the death of the feudal lord to keep evil off the castle and the town.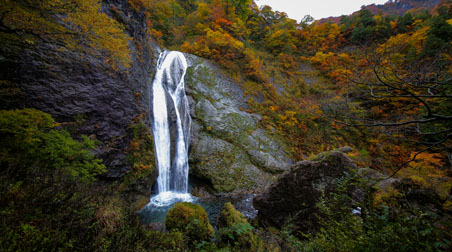 Suzugataki fall
When you go into the beautiful beech trees, you will see Suzugataki fall with the height of 55 meters and width of 10 meters.
There is a creek and suspension bridge on the way so you feel refreshed when you walk through there.
add: Takane Murakami-shi >> map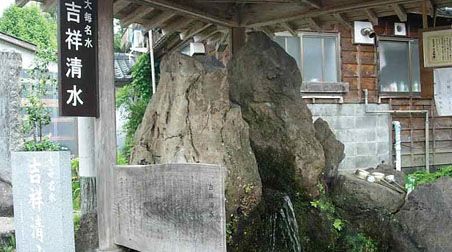 Kichijo Shimizu
People of Ogoto-village have long been drinking Kichijo Shimizu water springing from Kichijo mountain. Many people visit here to get this water from all over the place.
add: Ogoto Murakami-shi >> map